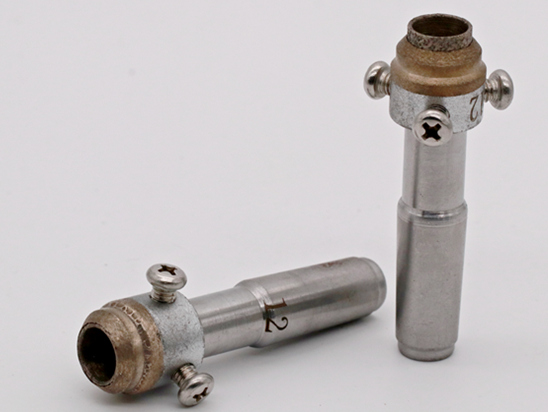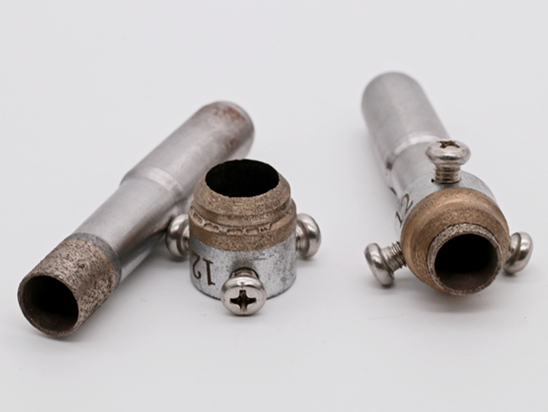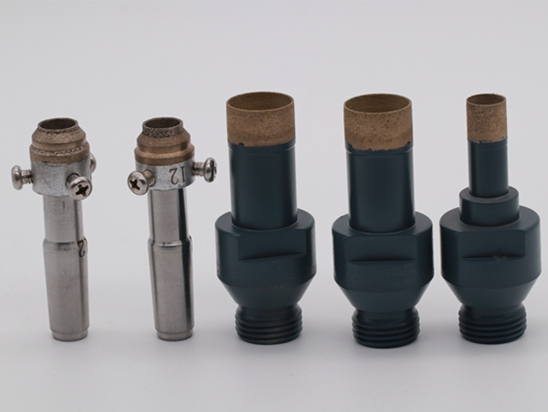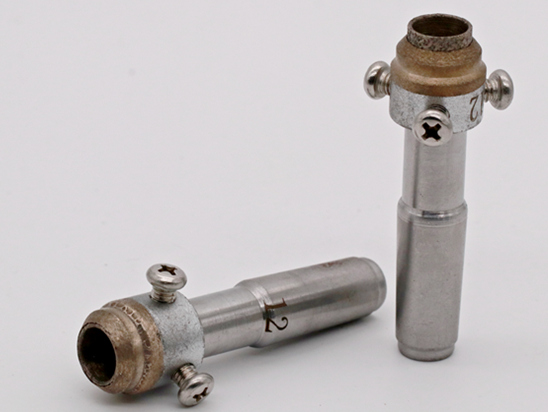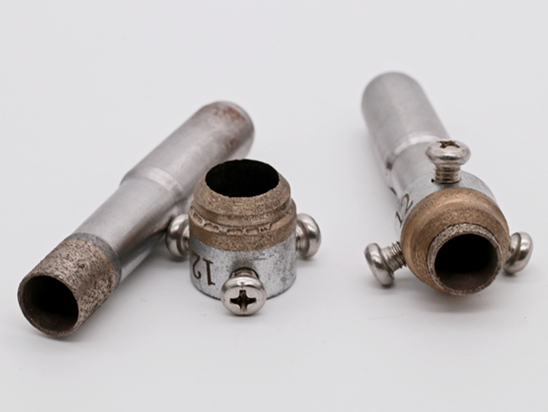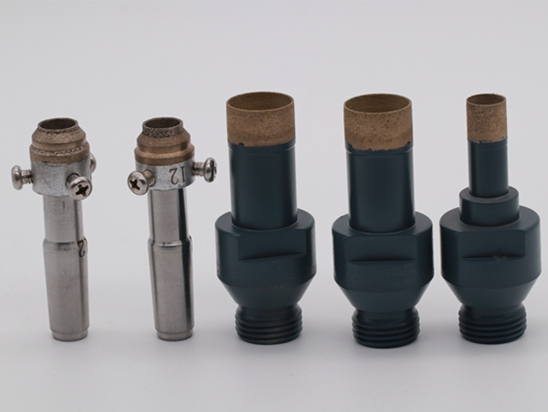 Diamond Drill bit and countersink sleeves for glass
Glass  diamond core drill bits
diamond countersink sleeve for match diamond core drill bit
Shank types, such as straight shank, taper shank, internal and external threaded shank
Diameter: 3-150mm
Product Details
The abrasive layer of diamond glass drill bits usually uses high-quality diamond particles, which are carefully selected and tightly combined to ensure excellent cutting performance and durability. The thickness of this diamond abrasive layer is typically 1 mm, while the overall height of the drill bit is 10 mm. This thin-walled design allows the drill bit to easily penetrate glass, while reducing wear on the drill bit and extending its service life.
Moersuperhard offers a wide range of diamond glass core drill bits for drilling holes in glass as diamond countersink bit, diamond chamfer sleeves, CNC finger bits, core bits, diamond coated drill bits, etc…
Diamond Drill Bits have different shank types, such as straight shank, taper shank, and internal and external threaded shank.
Diamond core drill bit for glass drilling
Diamond drills are designed to meet the precision hole of glass drilling, and can achieve neat hole glass edge and no collapse.
Diamond core drill bit  are used for drilling glass, ceramics, porcelain, ceramic tile, porcelain tile, limestone, slate, marble, granite, light stone, and fiberglass.
Match machine:
Glass hole saw are suited for Bavelloni beveling machines, Bottero glass grinding & beveling machine , Busetti double-edging machines and systems and glass processing machines and systems.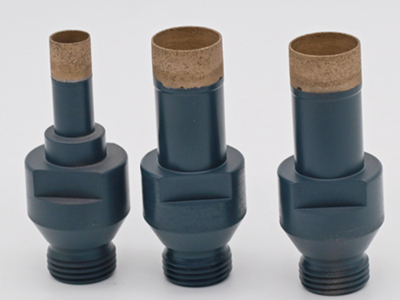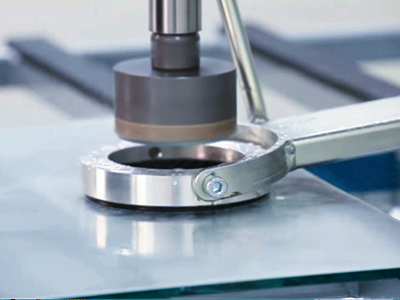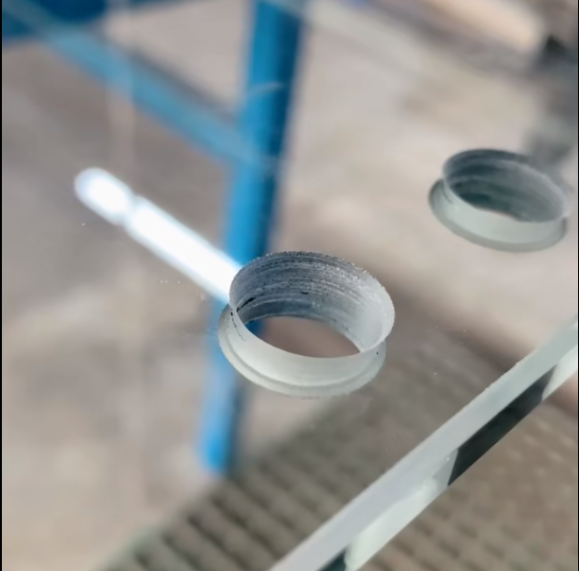 Diamond Countersink sleeve for match core drill bit 
The diamond countersink sleeve drill bit is a diamond tool specially designed to be used with diamond drill bits.
Diamond countersink ring's main function is to produce a certain smooth effect on the edge of the glass hole.
Applications of Diamond Countersink sleeve for match core drill bit 
Diamond countersink sleeve drill bit is suitable for various materials, including glass, quartz, carbon, boron, composite materials, graphite epoxy resin, glass fiber, and marble. Such as the handle and vent of the glass lid, and the handle of the glass door, those installed holes need be chamfering.
The diamond chamfer sleeve is designed to fit easily over a diamond drill bit, allowing for fine finishing of the edges of glass holes after drilling is complete. Using a diamond chamfering set can ensure the smoothness and precision of the edge of the glass hole, thereby improving product quality and aesthetics.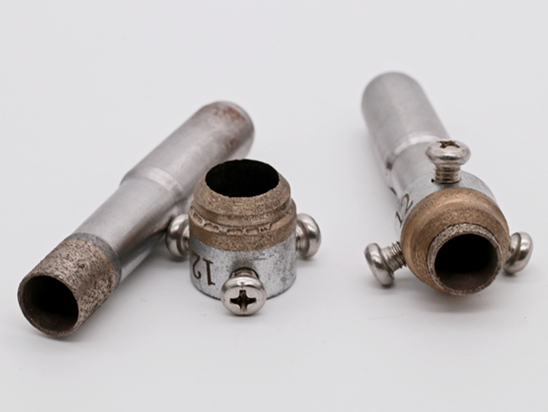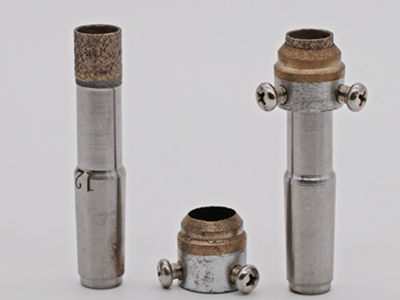 Advantages of chamfering glass drill bit diamond countersink sleeves: 
* Low noise and high wear resistance
*  Can be disassembled, flexible and easy to use,
* Extended life
* Glass surface smooth
* No broken edges
* Flexible
Drawing&Specification
Specifications  of Glass drill bit 
Diamond Countersink Sleeves
Diameter
5-130mm
Diamond Countersink Sleeves sintered by the proportion of diamond and copper powder mixed and modulated, through high temperature refined into a ring tools head, the bevel Angle of the tools head is 45 degrees, Sharp edge, ultra-long and durable,Its design makes suitable set on the diamond threaded shank drill, straight shank drill, taper shank drill. The screw is flush with the surface to form a conical hole, and the edge of the glass after drilling is fine treated.
Diamond Drill bits with countersinks sleeves

Wall thickness(mm)
Dia(mm)
3.5
5-130
5
5-130
diamond countersink together with drill bit, after drilling a hole of glass, the countersink will chamfer the glass edge smooth almost the same time,Drilling and chamfering will be done in one time achieve more efficient work.
Countersink bits Sintered mounted points
Type
Dia(mm)
Head Angle
Total Length
 RPM
Wet processing
Straight Shank
30, 40, 50, 60
90 °
 55
2200–2600
Coolant necessary
This diamond chamfer mounted points is specially used to treat the internal edges of glass holes. This flexible handle design suitable more type of machine.
Inquiry
Please Feel free to give your inquiry in the form below. We will reply you in 24 hours.