OD Cylindrical Peel Grinding Wheel
► Peel grinding on CNC tool grinder
► Bond: Vitrified CBN wheel , electroplated plated CBN wheel
► Application: external cylindrical grinding of milling cutters, drills and wire tapping, grooves, flats, threads and chamfers, etc
Product Details
OD Peel Cylindrical Grinding
Peel grinding operations of a variety of diameters, grooves, thrust faces and forms using one set-up. It is suitable for external cylindrical grinding of milling cutters, drills and wire tapping, grooves, flats, threads and chamfers, etc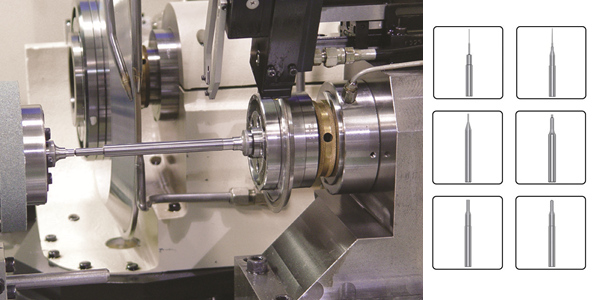 Application of peel grinding
* For high precision CNC cylindrical peel grinding machine, widely used for profile cylindrical peel grionding former working procedure of milling cutter, drill bit, tapping, non - standard carbide rotary tools.
* Automotive industry: Transmission, drive shaft, gear grinding, etc.
* The two main markets for peel (and squeeze) grinding are grinding parts and cutting tool blanks. Suitable for grinding precision punch, micro pin, die parts and other products.
* It is not only suitable for the preparation of cylindrical blanks, but also for non-circular applications. Especially suitable for flat, threaded and non-circular punch applications.
Features of Pell Grinding
— High-precision, high-efficiency
— Center-going, step-difference forming external cylindrical grinding
— The punches and needles are rough and finely ground at one time, and the finish is high
— With less frequent dressing in the case of vitrified CBN wheels or without dressing in the case of plated CBN wheels
Rough grinding vitrified bond grinding wheel (has better
efficient than resin grinding wheels) or electroplated grinding wheels
Finish Grinding Metal Grinding Wheel
Case of peel grinding Tapered Bolt with vitrified CBN grinding wheel
Application for Tapered Bolt(Inconel 718)

Configuration

Straight wheel, CBN (vitrified)

Process

High-speed "peel" grind: multi-pass. Grinds head-end shoulder, fillet radius, tapered body diameter, transition angle, thread-roll diameter and nose-end angle

Attributes

Diameter tolerance +/- .0002"

Surface finish

Ra16

Dressing

Rotary diamond dresser
What is Peel grinding?
Peel grinding belongs to cylindrical grinding, refers to high speed grinding of cylindrical and non - cylindrical shaft workpieces. When grinding non-cylindrical workpiece, the grinding wheel rotates at a high speed (usually 90-150 m/s) and moves axially at a certain grinding cut depth to achieve axial feed (>100mm/min) and peel the material from the workpiece surface. Because the grinding wheel is very thin, the workpiece speed in the grinding process needs to be large enough to avoid the occurrence of spiral lines.
The precision of cylindrical peel grinding is high, which is suitable for hard materials that can not be processed by traditional processing. peel grinding is a kind of grinding method similar to traditional turning, which is the main competitor of hard turning. It has good flexibility and high grinding efficiency. Peel grinding ensures polished surface finish and unmatched performance to micron level accuracy.
Drawing&Specification
Cases of Peel Grinding

Peel Rough Grinding
Size
Grinding Wheel
3v1 250D * 20T * 31.75H * 6X
Workpiece
Φ6.0mm
CNC Machine
Rollomatic
Speed of grinding wheel
70 m/s
Feed rate
1.25mm
Feed speed
18mm /min
Peel Fine Grinding
Size
Grinding Wheel
12BT9 150D * 25T * 31.75H * 6X
Workpiece
Φ6.0mm
CNC Machine
Rollomatic
Speed of grinding wheel
42 m/s
Feed rate
0.02mm
Feed speed
12mm /min

Inquiry
Please Feel free to give your inquiry in the form below. We will reply you in 24 hours.