Diamond/CBN Double Disc Grinding Wheel for roughing and finishing
Reduced cutting forces
Increased removal rates
Increased precision
Reduced disposal costs
Reduced machine downtime
Product Details
Description:
More SuperHard company offers a full line of diamond and CBN grinding wheels and dressing stones for fine grinding machines and single and double side lapping systems. Our vitrified diamond and CBN grinding discs have high grinding efficiency, high wear resistance and abrasive consumption, good surface quality and flatness of the workpiece.
Advantages of Inserts Top and Bottom Grinding Wheels:
1.High grinding efficiency,Long service life and Good shape retention.
2. High strength synthetic diamond for high removal rates while excellent finish.
3. Sharp shape synthetic diamond for long dressing intervals.
4. Free cutting design for low cutting energy.
5. Better cutting edge with smaller chipping.
6. Good uniformity of size because the stable uniform structure and materials in abrasive layer.
7. High flatness, good finish, and parallemism.
8. Save your labor costs.
Applicable Areas:
♦ Hydraulic pneumatic components. vane pump, conversion valve, piston pump,fuel pump, hydraulic motor parts

♦ Compressor spare parts. air conditioner compressor vane, piston, Refrigerator compressor valve plate, cylinder block (grey cast iron or nodular cast iron), sleeve (alloy cast iron), slide (high speed steel)

♦ Engine parts. automobile fuel pump parts, booster pump parts,oil pump nozzle parts

♦ High precision shaft ,seal, watch parts, molds, carbide blade, ceramic valve core,magnetic materials,etc
Various Layouts of double discs:
Shape of resin bond grinding segment: circular, straight segment (other shapes can be customized)
Shape of the vitrified bond grinding segment: regular hexagon, sector, square ,circular, trigonometrical, hexagonal pellets (other shapes can be customized)
Typical Grinding machine for double disc:
Wendt WBM, Viotoo, AMT, Stahli, Peter Wolters, Diskus, Agathon T&B, Fujisanki, Supfina, Melchiorre, Koyo, Lam Plan, Speedfam, Kemet, Gardner and other brands.
Matching dressing grinding wheel:
The dressing wheels are used for dressing diamond and CBN wheels. According to the different particle size, accuracy of the diamond and CBN grinding disc to choose the dressing wheel, making dressing easier and more time saving.

Drawing&Specification
Type

Spec.

1A2T

D: 305mm - 1200mm

X: 3mm - 10mm

T: 50mm -100mm

6A2B

D: 380mm - 1200mm

W: 150mm - 400mm

X: 3mm - 10mm

Layouts: cylindrical, hexagonal, fan shaped and square

Flatness:<=2μm, parallelism:<=2μm, Roughness: Ra0.02μm-Ra0.2μm

Durability: grinding HSS slide (25mm*25mm), the number of workpiece >= 1million

grinding carbide blade, the number of workpiece >= 1million

Double disc typical grinding machines: AM Technology,Lapmaster,Melchiorre,Peter Wolters,Stähli...
Case 1 Connecting Rod Surface Grinding
Workpiece material
nodular cast iron (45#, 40Cr, 40CrMo)
Hardness
210-280HB
grinding tolerance
Rough : 0.4 - 0.5
Fine: 0.2 - 0.4
surface finish
Ra 0.8
Size of grinding wheel
915* 85 * 304.8
Grinding wheel speed
35m/s
No burns or burrs
Case 2 Daimond Double-Disc Fine Grinding wheel for carbide seals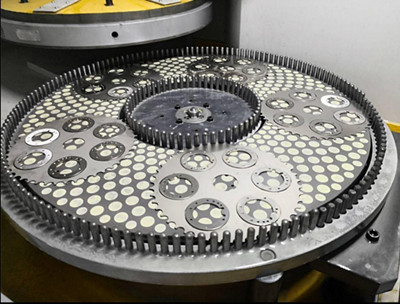 | | |
| --- | --- |
| Application | Double-Disc Fine Grinding |
| Wheel sizes | Diamond 2A2T Ø720-30T-5X-320ID |
| Machine | Peter Wolters |
| Coolant | Oil |
| Wheel speed | 120rpm |
| Work-piece speed | 30rpm |
| Work-piece | Seals |
| Material | Carbide |
| Hardness | 70HRC |
| Stock removal | 0,1mm total |
| Cut rate | 70µm/min |
| Roughness achieved | 0,20 µm Ra |
| Flatness achieved | 0,001mm |
| Parallelism achieved | 0,001mm |
| Grit of diamond wheel | 400 # |
| Cycle time | 2,30 minutes |
Inquiry
Please Feel free to give your inquiry in the form below. We will reply you in 24 hours.